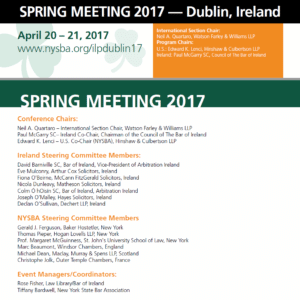 On Thursday 20th and Friday 21st April The Bar of Ireland hosted over 100 delegates for the New York State Bar Association International Section Spring Meeting 2017. Outer Temple Chambers barristers took part of several panels on different subjects such as:
The Impact of Brexit on Dublin and other European Cities
Anti-Corruption Law and Enforcement
International Human Rights: European and US Perspectives on Current Challenges
Christophe Jolk, also a NYSBA Steering Committee member, was set to co-chair the panel discussing the Anti-Corruption topic.
DESCRIPTION Anti-Corruption Law and Enforcement From Seoul to São Paulo, anti-corruption investigations and enforcement have dominated recent headlines. Explore the application of the U.K. Bribery Act, the Foreign Corrupt Practices Act, and comparable legislation in France and Ireland to the age-old problem of public corruption. This highly-qualified panel includes some of the leading voices in this area, and is a critical for anyone representing clients with cross border interests.
1.5 NY MCLE credits
Co-Chairs: Christophe Nicolas Jolk, Outer Temple Chambers, Paris Carina Lawlor, Matheson, Dublin
Panelists: Michael Bowes QC, Outer Temple Chambers, London Lara K. Delamarre, Cohen & Gresser LLP, Paris Remy Farrell SC, Dublin
Download Christophe Jolk's presentation