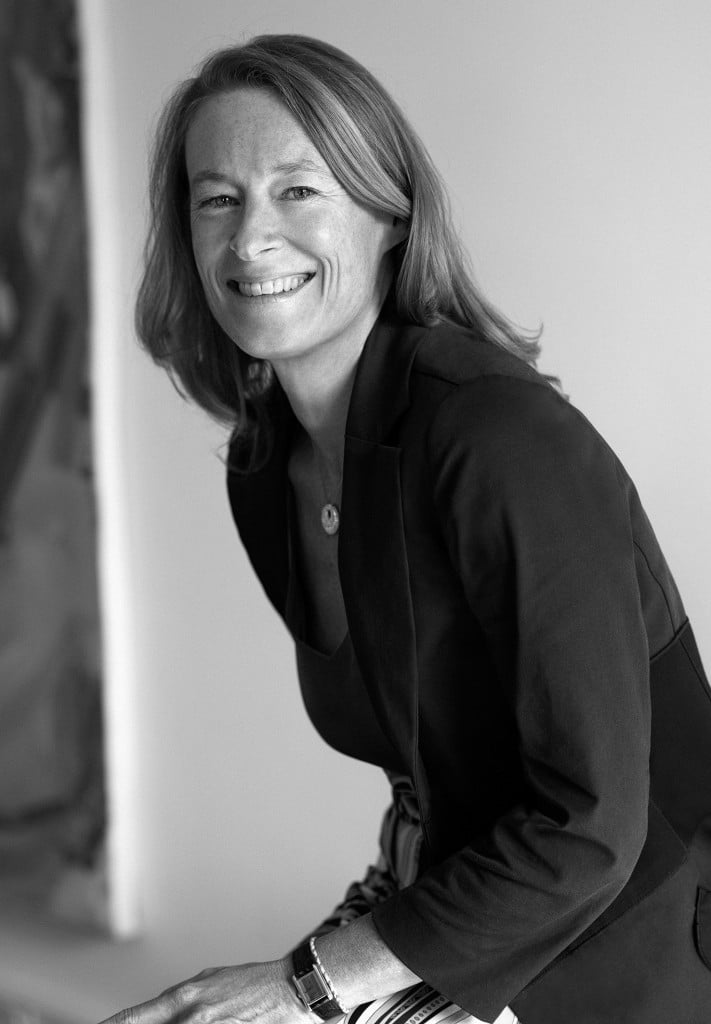 Of Luxembourgish nationality, Anouk Darcet Felgen has been a partner at BMHAVOCATS since 2001. While pursuing her activities in the fields of product liability and life sciences, in which she is renowned for her experience in particular in the sectors of chemistry, crops science and construction, she is behind BMHAVOCATS' notoriety in energy law.
As an expert in the energy sector for more than 15 years, Anouk Darcet Felgen's practice encompasses litigation as well as advice to players in the energy sector (project carriers in the energy production and distribution or energy efficiency sectors, constructors and operators of power plants in the field of both conventional and renewable energies (wind power, photovoltaic, biomass/biogas, hydropower, geothermal energy), electricity and gas suppliers, providers of energy services, large private and public consumers, investors, market operators, government agencies and institutions), in order to respond specifically to the problems that can occur at any stage of their projects.
Her in-depth knowledge of the stakes of the market enables her to provide support to her public and private clients, in their own language, on all aspects of their operations, from project development to the construction and operation of facilities, from legal audit and day-to-day support to the drafting and negotiation of contracts (in particular EPC and O&M contracts, cooperation contracts, long-term lease agreements, supply agreements, share purchase and related agreements, facility, financing an loan agreements, power procurement contracts), the responding to calls for tenders and and the resolution of conflicts. She assists her clients before the judicial and administrative courts, as well as before regulatory authorities and in mediation/arbitration.
LANGUAGES
French, German, English, Spanish, Luxembourgish
DEUG of Spanish language and civilization from the University of Toulouse-le-Mirail
Double Master in Business Law and European Law, DEA in Business Law, University Paris I Panthéon Sorbonne
Legal 500 PARIS 2017
Energy
client quote: ``Anouk Darcet-Felgen possesses absolutely remarkable listening skills, rigorousness and capacity for work".
Décideurs Juridiques 2022
Anouk Darcet Felgen is member of the Luxembourg Bar (liste IV), since 2017
Press conference for the official presentation of the report regarding the legal grounds that may be contemplated to put a hold on the prorogation of the operation of nuclear power plants, Ministry for Environment, Energy, Food and Forests, Land Rheinland-Pfalz (Germany), Trier, June 30 2017
«INTERLAW BOOK ON RENEWABLE ENERGIES», CONTRIBUTION SUR LA FRANCE, EDITIONS BRUYLANT, FÉVRIER 2015, CONTRIBUTION POUR LA FRANCE
«MÉCANISMES DE SOUTIEN POUR LA PRODUCTION D'ÉLECTRICITÉ À PARTIR DE SOURCES D'ÉNERGIE RENOUVELABLES», CONFÉRENCE ORGANISÉE PAR BMH AVOCATS, EN COLLABORATION AVEC L'AEEC (« ASSOCIATION OF EUROPEAN ENERGY CONSULTANTS", ASSOCIATION DES CONSULTANTS EUROPÉENS EN ENERGIE"), PARIS, 24 NOVEMBRE 2014 (COLLOQUE)
DIALOGUE AVOCAT-ÉCONOMISTE : «LES AIDES À L'ÉLECTRICITÉ D'ORIGINE RENOUVELABLE : VERS UN NOUVEAU PARADIGME ?», REVUE LAMY CONCURRENCE, JUIN 2014
«RAPPORT NATIONAL SUR LES DÉVELOPPEMENTS RÉCENTS RELATIFS À L'ÉNERGIE ÉOLIENNE», AEEC SUMMER CAMP, 30 AOÛT 2013 (COLLOQUE)
«ENERGIES RENOUVELABLES EN EUROPE, PROBLÉMATIQUES LÉGALES ET DE MARCHÉ, PAYS : FRANCE», COLLOQUE DE L'UNION DES AVOCATS EUROPÉENS, BARCELONE, 14 – 17 JUIN 2012 (COLLOQUE)
«L'ENVIRONNEMENT JURIDIQUE DE L'ACTIVITÉ ÉOLIENNE OFF-SHORE EN FRANCE», PRÉSENTATION FAITE AUPRÈS D'UNE DES PLUS IMPORTANTES SOCIÉTÉS EUROPÉENNES DU SECTEUR DE LA CONSTRUCTION, VIENNE (AUTRICHE), 22 FÉVRIER 2012 (COLLOQUE)
«ELECTROMOBILITY FOR EUROPE – OVERCOMING TECHNICAL, ECONOMICAL AND LEGAL CHALLENGES» («ELECTROMOBILITÉ POUR L'EUROPE – RÉALISER LES DÉFIS TECHNIQUES, ÉCONOMIQUES ET JURIDIQUES») COLLOQUE ORGANISÉ PAR LE CABINET JANSON BAUGNIET DANS LE CADRE DU SALON DE L'AUTO DE BRUXELLES, BRUXELLES, 16 JANVIER 2012 (COLLOQUE)
«LES ÉCHANGES D'ÉLECTRICITÉ D'ORIGINE RENOUVELABLE ENTRE LES RIVES SUD ET NORD DE LA MÉDITERRANÉE DANS LE CADRE DE L'ARTICLE 9 DE LA DIRECTIVE N° 2009/28/CE DU 23 AVRIL 2009 POUR LA PROMOTION DES ÉNERGIES RENOUVELABLES, PRÉSENTATION DES ENJEUX JURIDIQUES ET RÉGLEMENTAIRES», MINISTÈRE DE L'ECONOMIE, DES FINANCES ET DE L'INDUSTRIE, PARIS, 22 SEPTEMBRE 2011 (COLLOQUE)
«L'APPEL D'OFFRES SIMPLIFIÉ POUR LES PROJETS PHOTOVOLTAÏQUES DE 100 À 250 KWC», BUREAU DE COORDINATION DES ENERGIES RENOUVELABLES (KOORDINIERUNGSSTELLE ERNEUERBARER ENERGIEN), SALON INTERSOLAR, MUNICH, 9 JUIN 2011 (COLLOQUE)
«EU PERSPECTIVES ON FINANCING RENEWABLE ENERGY PROJECTS – REPORT ON RENEWABLE ENERGIES IN FRANCE» (« PERSPECTIVES EUROPÉENNES EN MATIÈRE DE FINANCEMENT DE PROJETS DANS LE DOMAINE DES ÉNERGIES RENOUVELABLES – RAPPORT SUR LES ÉNERGIES RENOUVELABLES EN FRANCE »), CONFÉRENCE « GREEN IN THE CITY", LONDRES, 23 FÉVRIER 2011 (COLLOQUE)
«L'ARRÊTÉ TARIFAIRE PHOTOVOLTAÏQUE DU 31 AOÛT 2010 EN 6 POINTS» NEWSLETTER ENERGIE / DÉVELOPPEMENT DURABLE N° 3, OCTOBRE 2010
«LES NOUVEAUX ARRÊTÉS TARIFAIRES PHOTOVOLTAÏQUES : ENTRE CONSOLIDATION ET CONFUSION», NEWSLETTER ENERGIE / DÉVELOPPEMENT DURABLE N° 2, MAI 2010
«LE NOUVEAU CADRE RÉGLEMENTAIRE D'IMPLANTATION DES CENTRALES SOLAIRES EN FRANCE», NEWSLETTER ENERGIE / DÉVELOPPEMENT DURABLE N° 1, MARS 2010
«LE FUTUR DE L'ÉNERGIE NUCLÉAIRE EN FRANCE», AEEC, (ASSOCIATED EUROPEAN ENERGY CONSULTANTS), BRUXELLES, 23 NOVEMBRE 2009 (COLLOQUE)
«LES POUVOIRS DE LA NOUVELLE AGENCE DE COOPÉRATION DES RÉGULATEURS DE L'ENERGIE (ACER)», AEEC, (ASSOCIATED EUROPEAN ENERGY CONSULTANTS), E-WORLD, ESSEN, 10 FÉVRIER 2009 (COLLOQUE)
«LE RÔLE DU CHARBON PROPRE ET DU CAPTAGE DE CO2 DANS L'INDUSTRIE EUROPÉENNE DE L'ÉNERGIE», AEEC (ASSOCIATED EUROPEAN ENERGY CONSULTANTS), PRÉSENTATION DE LA SITUATION EN FRANCE, BRUXELLES, NOVEMBRE 2008 (COLLOQUE)
«ACQUISITION D'UN PARC ÉOLIEN EN FRANCE : ASPECTS DE LA DUE-DILIGENCE JURIDIQUE», CFACI (CHAMBRE FRANCO-ALLEMANDE POUR LE COMMERCE ET L'INDUSTRIE), REVUE CONTACT MAI/JUIN 2008
«LES ASPECTS JURIDIQUES DE LA GESTION DES DÉCHETS NUCLÉAIRES», AEEC (ASSOCIATED EUROPEAN ENERGY CONSULTANTS), PRÉSENTATION DE LA SITUATION JURIDIQUE EN FRANCE, CORDOUE, OCTOBRE 2007
«RACCORDEMENT AUX RÉSEAUX PUBLICS ET EFFACEMENT, LE MOT DU JURISTE», EUROP'ENERGIES N°43, DÉCEMBRE 2005
«LA NOUVELLE LOI FRANÇAISE SUR LA POLITIQUE ÉNERGÉTIQUE (LOI « POPE »): INCIDENCE SUR LES ÉNERGIES RENOUVELABLES ET PROJETS D'INVESTISSEMENT», PRÉSENTATION DE LA "LOI POPE" ET PRÉSIDENCE, CONFÉRENCE ORGANISÉE PAR BMH AVOCATS, EN COOPÉRATION AVEC L'AEEC (ASSOCIATED EUROPEAN ENERGY CONSULTANTS) ET LE SOUTIEN DE LA CFACI (CHAMBRE FRANCO-ALLEMANDE POUR LE COMMERCE ET L'INDUSTRIE), PARIS, 4 NOVEMBRE 2005 (COLLOQUE)
Press conference for the official presentation of the report regarding the legal grounds that may be contemplated to put a hold on the prorogation of the operation of nuclear power plants, Ministry for Environment, Energy, Food and Forests, Land Rheinland-Pfalz (Germany), Trier, June 30 2017
«INTERLAW BOOK ON RENEWABLE ENERGIES», CONTRIBUTION SUR LA FRANCE, EDITIONS BRUYLANT, FÉVRIER 2015, CONTRIBUTION POUR LA FRANCE
«MÉCANISMES DE SOUTIEN POUR LA PRODUCTION D'ÉLECTRICITÉ À PARTIR DE SOURCES D'ÉNERGIE RENOUVELABLES», CONFÉRENCE ORGANISÉE PAR BMH AVOCATS, EN COLLABORATION AVEC L'AEEC (« ASSOCIATION OF EUROPEAN ENERGY CONSULTANTS", ASSOCIATION DES CONSULTANTS EUROPÉENS EN ENERGIE"), PARIS, 24 NOVEMBRE 2014 (COLLOQUE)
DIALOGUE AVOCAT-ÉCONOMISTE : «LES AIDES À L'ÉLECTRICITÉ D'ORIGINE RENOUVELABLE : VERS UN NOUVEAU PARADIGME ?», REVUE LAMY CONCURRENCE, JUIN 2014
«RAPPORT NATIONAL SUR LES DÉVELOPPEMENTS RÉCENTS RELATIFS À L'ÉNERGIE ÉOLIENNE», AEEC SUMMER CAMP, 30 AOÛT 2013 (COLLOQUE)
«ENERGIES RENOUVELABLES EN EUROPE, PROBLÉMATIQUES LÉGALES ET DE MARCHÉ, PAYS : FRANCE», COLLOQUE DE L'UNION DES AVOCATS EUROPÉENS, BARCELONE, 14 – 17 JUIN 2012 (COLLOQUE)
«L'ENVIRONNEMENT JURIDIQUE DE L'ACTIVITÉ ÉOLIENNE OFF-SHORE EN FRANCE», PRÉSENTATION FAITE AUPRÈS D'UNE DES PLUS IMPORTANTES SOCIÉTÉS EUROPÉENNES DU SECTEUR DE LA CONSTRUCTION, VIENNE (AUTRICHE), 22 FÉVRIER 2012 (COLLOQUE)
«ELECTROMOBILITY FOR EUROPE – OVERCOMING TECHNICAL, ECONOMICAL AND LEGAL CHALLENGES» («ELECTROMOBILITÉ POUR L'EUROPE – RÉALISER LES DÉFIS TECHNIQUES, ÉCONOMIQUES ET JURIDIQUES») COLLOQUE ORGANISÉ PAR LE CABINET JANSON BAUGNIET DANS LE CADRE DU SALON DE L'AUTO DE BRUXELLES, BRUXELLES, 16 JANVIER 2012 (COLLOQUE)
«LES ÉCHANGES D'ÉLECTRICITÉ D'ORIGINE RENOUVELABLE ENTRE LES RIVES SUD ET NORD DE LA MÉDITERRANÉE DANS LE CADRE DE L'ARTICLE 9 DE LA DIRECTIVE N° 2009/28/CE DU 23 AVRIL 2009 POUR LA PROMOTION DES ÉNERGIES RENOUVELABLES, PRÉSENTATION DES ENJEUX JURIDIQUES ET RÉGLEMENTAIRES», MINISTÈRE DE L'ECONOMIE, DES FINANCES ET DE L'INDUSTRIE, PARIS, 22 SEPTEMBRE 2011 (COLLOQUE)
«L'APPEL D'OFFRES SIMPLIFIÉ POUR LES PROJETS PHOTOVOLTAÏQUES DE 100 À 250 KWC», BUREAU DE COORDINATION DES ENERGIES RENOUVELABLES (KOORDINIERUNGSSTELLE ERNEUERBARER ENERGIEN), SALON INTERSOLAR, MUNICH, 9 JUIN 2011 (COLLOQUE)
«EU PERSPECTIVES ON FINANCING RENEWABLE ENERGY PROJECTS – REPORT ON RENEWABLE ENERGIES IN FRANCE» (« PERSPECTIVES EUROPÉENNES EN MATIÈRE DE FINANCEMENT DE PROJETS DANS LE DOMAINE DES ÉNERGIES RENOUVELABLES – RAPPORT SUR LES ÉNERGIES RENOUVELABLES EN FRANCE »), CONFÉRENCE « GREEN IN THE CITY", LONDRES, 23 FÉVRIER 2011 (COLLOQUE)
«L'ARRÊTÉ TARIFAIRE PHOTOVOLTAÏQUE DU 31 AOÛT 2010 EN 6 POINTS» NEWSLETTER ENERGIE / DÉVELOPPEMENT DURABLE N° 3, OCTOBRE 2010
«LES NOUVEAUX ARRÊTÉS TARIFAIRES PHOTOVOLTAÏQUES : ENTRE CONSOLIDATION ET CONFUSION», NEWSLETTER ENERGIE / DÉVELOPPEMENT DURABLE N° 2, MAI 2010
«LE NOUVEAU CADRE RÉGLEMENTAIRE D'IMPLANTATION DES CENTRALES SOLAIRES EN FRANCE», NEWSLETTER ENERGIE / DÉVELOPPEMENT DURABLE N° 1, MARS 2010
«LE FUTUR DE L'ÉNERGIE NUCLÉAIRE EN FRANCE», AEEC, (ASSOCIATED EUROPEAN ENERGY CONSULTANTS), BRUXELLES, 23 NOVEMBRE 2009 (COLLOQUE)
«LES POUVOIRS DE LA NOUVELLE AGENCE DE COOPÉRATION DES RÉGULATEURS DE L'ENERGIE (ACER)», AEEC, (ASSOCIATED EUROPEAN ENERGY CONSULTANTS), E-WORLD, ESSEN, 10 FÉVRIER 2009 (COLLOQUE)
«LE RÔLE DU CHARBON PROPRE ET DU CAPTAGE DE CO2 DANS L'INDUSTRIE EUROPÉENNE DE L'ÉNERGIE», AEEC (ASSOCIATED EUROPEAN ENERGY CONSULTANTS), PRÉSENTATION DE LA SITUATION EN FRANCE, BRUXELLES, NOVEMBRE 2008 (COLLOQUE)
«ACQUISITION D'UN PARC ÉOLIEN EN FRANCE : ASPECTS DE LA DUE-DILIGENCE JURIDIQUE», CFACI (CHAMBRE FRANCO-ALLEMANDE POUR LE COMMERCE ET L'INDUSTRIE), REVUE CONTACT MAI/JUIN 2008
«LES ASPECTS JURIDIQUES DE LA GESTION DES DÉCHETS NUCLÉAIRES», AEEC (ASSOCIATED EUROPEAN ENERGY CONSULTANTS), PRÉSENTATION DE LA SITUATION JURIDIQUE EN FRANCE, CORDOUE, OCTOBRE 2007
«RACCORDEMENT AUX RÉSEAUX PUBLICS ET EFFACEMENT, LE MOT DU JURISTE», EUROP'ENERGIES N°43, DÉCEMBRE 2005
«LA NOUVELLE LOI FRANÇAISE SUR LA POLITIQUE ÉNERGÉTIQUE (LOI « POPE »): INCIDENCE SUR LES ÉNERGIES RENOUVELABLES ET PROJETS D'INVESTISSEMENT», PRÉSENTATION DE LA "LOI POPE" ET PRÉSIDENCE, CONFÉRENCE ORGANISÉE PAR BMH AVOCATS, EN COOPÉRATION AVEC L'AEEC (ASSOCIATED EUROPEAN ENERGY CONSULTANTS) ET LE SOUTIEN DE LA CFACI (CHAMBRE FRANCO-ALLEMANDE POUR LE COMMERCE ET L'INDUSTRIE), PARIS, 4 NOVEMBRE 2005 (COLLOQUE)